A Valentine Special Event Exploring Contemporary Dating Apps from a Psychoanalytic Perspective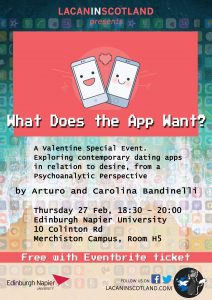 In this talk, Arturo and Carolina Bandinelli will take dating apps as a case study to tackle the question of desire in neoliberal digital societies. Applying Lacanian theory to the analysis of empirical data, they will explore the structural functioning of dating apps and the ways in which they activate, exploit and turn the subject's fantasy. Whilst current research on dating apps has approached the topic mostly from a media sociological perspective, considering the app as operating a mediation between individuals, they foster a psychoanalytic approach to look at the relationship that subjects have with themselves through the app. To this purpose, they will limit the scope of their analysis to a seemingly dysfunctional way in which dating apps are used. They will ask: how is the app working for subjects who engage with it regularly without actually meeting other people? In other words, how does the app work when it does not work?
They will suggest that the success of dating apps is not only due to their rational function of connecting the free agency of busy individuals, but also and crucially to the fact that they allow one to be involved with one's desire without the need of meeting another subject. The potentiality of the encounter, and the fantasy that frames it, are in themselves often producing the needed quote of libidinal enjoyment. In so doing, dating apps make it possible to articulate a response to the social injunction of having an active sexual and romantic life (i.e. the demand of being an enjoying subject), without confronting the anxiety of an embodied encounter.
Carolina Bandinelli is Assistant Professor in Media and Creative Industries at the University of Warwick. Her research focuses on subjectivity in neoliberal times. Her monograph Social Entrepreneurship and Neoliberalism. Making Money While Doing Good (2020) is published by Rowman and Littlefield International.
Arturo Bandinelli is an independent researcher and postgraduate candidate at Birkbeck's department of Psychosocial Studies. He is a training psychoanalyst at the Centre for Freudian Analysis and Research, London. He works as a filmmaker and video artist.
Thursday 27 February, 18:30 – 20:00
Edinburgh Napier University, 10 Colinton Road
Merchiston Campus, Room H5
Open to all and free via Eventbrite ticket.
Facebook Event found here.