A Seminar on Psychoanalysis and the Art of Francis Bacon.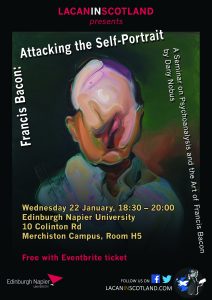 Professor Dany Nobus will explore aspects of the work of Francis Bacon, focusing on what he terms the psychoanalytic labour of rejection. The Scottish National Gallery of Modern Art (Modern One) are currently hosting an exhibition on Bacon and Kossoff – Reinventing the Figure. The exhibition, like this talk, is free. We strongly recommend you visit the exhibition before and after attending Professor Nobus's talk.
Professor Dany Nobus is a Clinical Psychologist, Psychoanalyst and former Chair of the Freud Museum London. Main research interests include the history, theory and practice of psychoanalysis, the history of psychiatry, and the intersections between psychoanalysis, philosophy and the arts. In 2017, Dany Nobus was awarded the Sarton medal of the University of Ghent for his outstanding contributions to the history of psychoanalysis.
Wednesday 22 Jan, 18:30 – 20:00
Edinburgh Napier University, 10 Colinton Road
Merchiston Campus, Room H5
Register for free on Eventbrite.