A seminar exploring a Lacanian perspective on populism in the context of Brexit.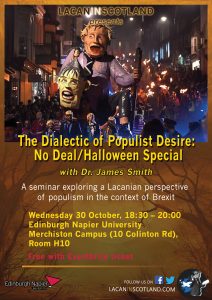 Dr Smith will argue that our discourse of 'populism' that has so dominated these post-2016 years has been insufficiently Lacanian, indeed, that is has often been 'pre-Freudian'. To 'give the people what they want' assumes not only that what they – collectively – want is knowable, but also that we know what 'wanting' is. The paper will advocate a model of populism commensurate with the findings of Lacan.
Dr James Smith is an English literary critic and political commentator. He has written books on the 18th century novel and on theories of work. His writings on Brexit, the radical right, the Labour Party under Corbyn, and Bernie Sanders have appeared in The Independent and Jacobin. He is editor of the Everyday Analysis Collective. Smith teaches literature and critical theory at Royal Holloway, University of London.
Wednesday October 30, 18:30 – 20:00
Edinburgh Napier University (Merchiston Campus, 10 Colinton Rd)
Room H10
Open to all and free with Eventbrite ticket.