A seminar exploring AI and sexuality from the perspective of psychoanalysis and 'Blade Runner 2049'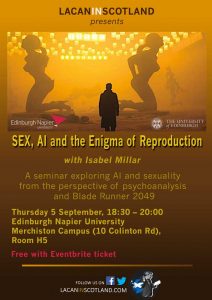 What is the relationship between sexuality and Artificial Intelligence? In this seminar, Isabel Millar will discuss the new psychoanalytic questions provoked by the entrance of AI into the social bond, the growing figure of the sex robot and the conceptual problems this raises for psychoanalytic accounts of subjectivity.
Exploring the film Blade Runner 2049, the seminar will discuss the enigma of reproduction and its relationship to sex. In the midst of an existential battle between humans and their replicas, the object cause of desire is the missing offspring around which the film revolves. As Lacan once said, the only real object a is the child. In which case, we may ask, how does the figure of the child function as an ontological problem for a replicant who never suffered castration and was not "born of woman" ? What is the significance of woman in relation to the protagonist's (non) human enjoyment? Furthermore what does Blade Runner 2049 tell us about the labour of human pregnancy, the fetishsization of biology, heredity and genetics and the disavowed work of gestation?
Using this and other cinematic depictions of AI and the sexual relation, this seminar will explore some of the ramifications and possible implications of our first forays into sexual relationships with Artificial Intelligences.
Isabel Millar is a PhD researcher in psychoanalysis, philosophy and contemporary critical theory at Kingston University, School of Art. Her research is on Lacan, Sex and Artificial Intelligence.
Thursday 5 September, 18:30 -20:00
Edinburgh Napier University, Merchiston Campus (10 Colinton Rd)
Room H5
Open to all and free with ticket via Eventbrite.