A seminar using psychoanalysis and clinical cases to explore the unconscious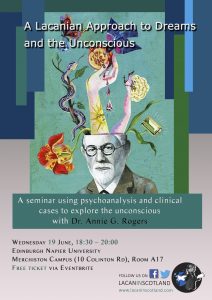 This presentation offers an explication of key ideas from Freud and Lacan that guide the analyst's work in the clinic. Dr. Rogers will explicate moments in a Lacanian analysis that illustrate the unconscious as an arc of experience. She will present two adult analytic cases (Kara and Fernando) to illustrate how patients become analysands, undertaking responsibility for their own explorations of the unconscious, guided by an analyst. The cases will illustrate the Lacanian structure of neurosis in its hysteric and obsessive forms.
Annie G. Rogers, Ph.D., is Analyst of the Lacanian School of San Francisco and Member of the Association for Psychoanalysis & Psychotherapy, Ireland. She is Professor of Psychoanalysis and Clinical Psychology at Hampshire College and directs its Psychoanalytic Studies Program. She also has a private practice. Her most recent book is Incandescent Alphabets: Psychosis and the Enigma of Language, published by Karnac Books.
Wednesday 19 June 2019, 18:30 – 20:00
Edinburgh Napier University
Merchiston Campus (10 Colinton Rd), Room A17
The seminar is free and open to everyone. Reserve a seat via Eventbrite.