An event exploring the praxis of Evidence Based Medicine using psychoanalytic theory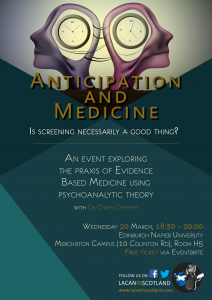 The increase in diagnostic testing seen today no doubt follows the belief that early screening in order to detect cancer is a 'good thing'. Dr Owen Dempsey uses psychoanalytic theory to critique the praxis of scientific Evidence Based Medicine, showing that such belief can in certain cases do more harm to health than good. Based on his new book 'Anticipation and Medicine – a critical analysis of the science, praxis and perversion of Evidence Based Medicine', Dr Owen Dempsey brings up something rarely addressed by outlining the dangers of anticipatory care and puts forward an alternative.
Dr Owen Dempsey is a medical doctor with experience as a GP within the UK. He specialises in the care of marginalised communities including asylum seekers, refugees, and the homeless. Most recently he has focused on substance and alcohol addiction in his work. He is also undertaking research into the practice and effects of EBM. 
Wednesday 20 March 2019, 18:30 – 20:00
Edinburgh Napier University
Merchiston Campus (10 Colinton Rd), Room H5
Free ticket via Eventbrite