An online seminar exploring modern society's relationship to nature and the concept of climate grief from a Lacanian perspective, with Professor Clint Burnham
---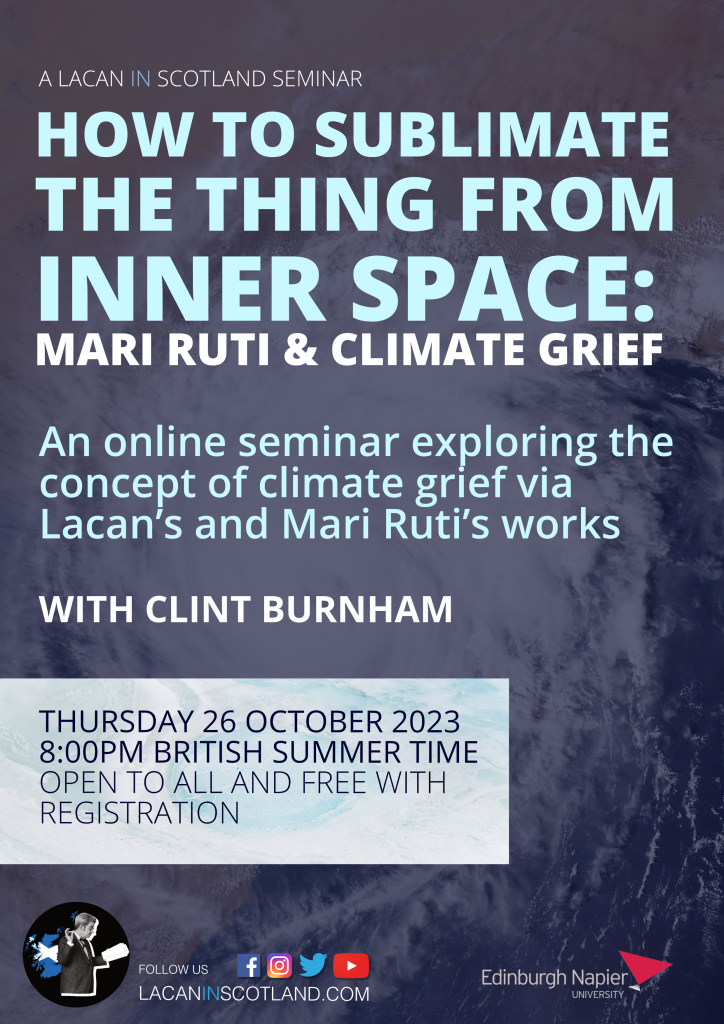 Professor Clint Burnham's talk will think with Mari Ruti's late piece, "When the Cure Is that There is No Cure," drawing on it to better understand what is now called 'climate grief'. Ruti's essay treats what she refers to as the "idiosyncratic" or "contingent" lack experienced with cancer, or other forms of trauma. It is a lack, Ruti argues, that appears as if out of nowhere, in comparison with the "ontological" or "constitutive" lack that is the psychoanalytic incurability of human existence, as well as with the "systemic" or "structural" lack that emerges from socio-political conditions. Ruti argues that it is through sublimation – Lacan's raising of an object to the dignity of a thing – and creativity, that one can overcome such contingent trauma.
Professor Burnham will apply this theory to Richard Power's 2018 "cli-fi" novel The Overstory, through which he will explore our relation to creativity and nature qua Thing, as modalities of working through climate grief. The talk will culminate in a reading of the coincidentia oppositorum of climate denialism and climate grief via Freud's kettle logic and Kübler-Ross's stages of grieving. By doing so, it will raise the question of whether we can, as climate denialists, by refusing the ontologization of lack, by not ceding our desire, become true ethical, or revolutionary, subjects.
Clint Burnham is Professor of English at Simon Fraser University in Vancouver, Canada, and widely published as a critical theorist, poet, and author of books on digital culture. He is co-editor, with Paul Kingsbury, of the Palgrave book Lacan and the Environment.
The seminar will take place on Zoom on Thursday 26 October 2023 at 8pm-9:30pm British Summer Time (BST).
The event is open to everyone and free with registration via Ticketleap. The Zoom link will be available for registrants via the ticket on the day of the seminar.