An online seminar exploring contemporary subjectivity in relation to the notions of alienation and freedom, with Matthew Flisfeder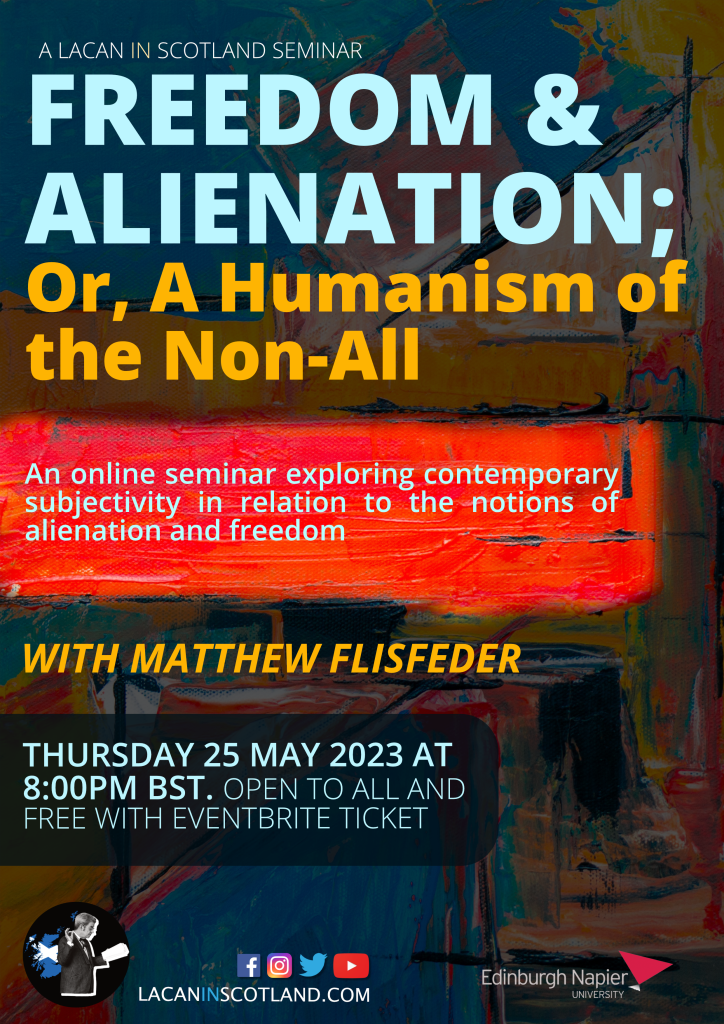 Today, the popular concept of the Anthropocene, used to denote the human geological age, puts to question the centrality of human subjectivity as an ethical agency. Critical posthumanism, in this context, demands the de-centring of the human subject, which in its apparently hubristic disregard for the non-human, seems to have set the world on fire. But what if the human subject is already constitutively de-centred and self-alienated? What purpose is served by aiming to de-centre the already de-centred subject?
Beginning with Freudian and Marxist conceptions of a social humanity, Matthew Flisfeder ties together Hegelian and Lacanian conceptions of ontological incompleteness to argue that it is precisely in our constitutive alienation that we discover the freedom required for ethical action. In contrast to posthumanist and Marxist humanist conceptions of subjectivity, Flisfeder shows that it is precisely in the movement from the hysterical discourse to the analytical discourse, in the Lacanian sense, and with it the Hegelian conception of love, that we may discover a dialectical humanism capable of helping us to grapple with the material conditions that plague us, today.
Matthew Flisfeder is an Associate Professor of Rhetoric and Communications at The University of Winnipeg. He is the author of Algorithmic Desire: Toward a New Structuralist Theory of Social Media (2021), Postmodern Theory and Blade Runner (2017), The Symbolic, The Sublime, and Slavoj Žižek's Theory of Film (2012), and co-editor of Žižek and Media Studies: A Reader (2014). His writing also appears in books, such as Lacan and the Environment (2021), Lacanian Perspectives on Blade Runner 2049 (2020), Understanding Žižek, Understanding Modernism (2022), and Black Mirror and Critical Media Theory (2018). He has recently published articles related to his critique of posthumanism and defence of universal and dialectical humanism in journals, such as Postmodern Culture and Rethinking Marxism. Learn more at https://matthewflisfeder.com.
The seminar will take place on Zoom on Thursday 25 May 2023 at 8pm-9:30pm British Summer Time (BST). Please be aware that Eventbrite (and Facebook) usually automatically converts the event time for the time zone from which you view the page.
The event is open to everyone and free with Eventbrite registration. The Zoom link will be available for registrants on the 'Online Event Page' (found when accessing your ticket on Eventbrite) on the day of the seminar.
Click here for the Facebook event.