An online seminar exploring spectatorship in relation to the drive and gaze – with Eve Watson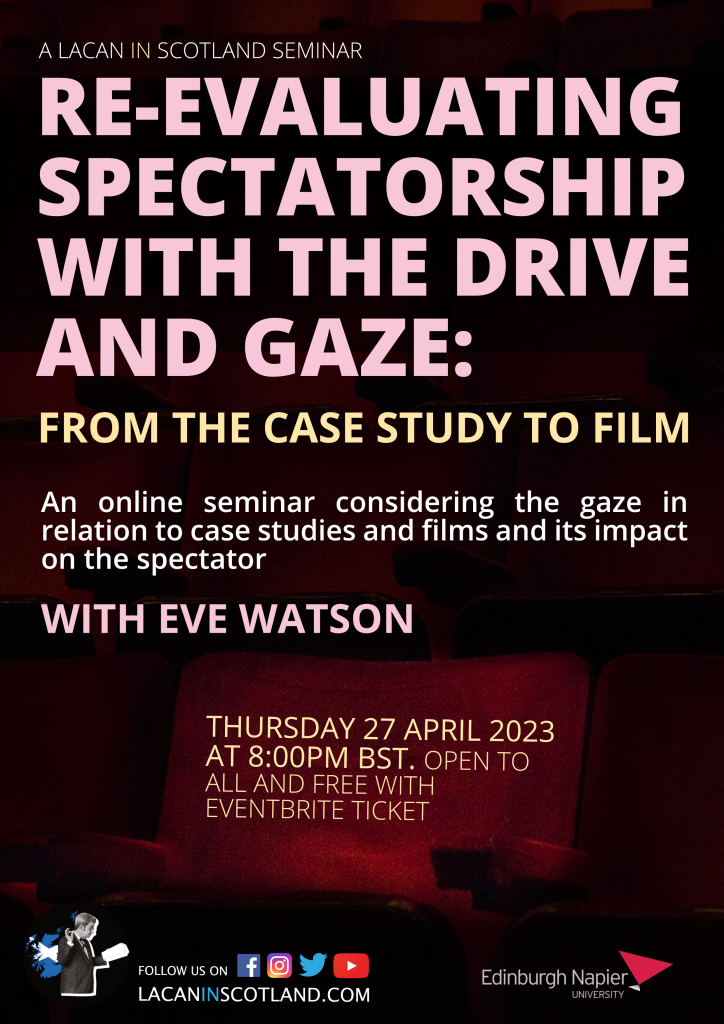 Spectatorship is a vital component in considering case studies and vignettes and also works of art such as film. In this talk, Eve Watson will consider "spectatorship" in light of the gaze and ponder how that functions psychoanalytically and what that adds to the work of evaluating text and image as well as its impact on the spectator.
Eve Watson (PhD, MICP) has been involved in psychotherapy practice, training, education, and research since 2005 and lectures in psychotherapy and psychoanalysis at undergraduate and postgraduate levels. She has published over thirty essays on sexuality, psychoanalysis, film, culture, and literature, has held various journal editorship roles, and sits on several international journal editorial boards. Her co-edited book is Clinical Encounters in Sexuality (2017, Punctum Books). She is a Reg. Pract. and full member of APPI (Association for Psychoanalysis and Psychotherapy in Ireland) and a member of ICP (Irish Council for Psychotherapy). In 2022, she was the Erik Erikson Scholar-in-Residence at the Austen Riggs Centre, Stockbridge, Massachusetts. She is the course director of the Freud Lacan institute, Dublin.
The seminar will take place on Zoom on Thursday 27 April 2023 at 8pm-9:30pm British Summer Time (BST). Please be aware that Eventbrite (and Facebook) usually automatically converts the event time for the time zone from which you view the page.
The event is open to everyone and free with Eventbrite registration. The Zoom link will be available for registrants on the 'Online Event Page' (found when accessing your ticket on Eventbrite) on the day of the seminar.
Click here for the Facebook event.