An online seminar exploring the development of Lacan's concept of object a in relation to desire, with Todd McGowan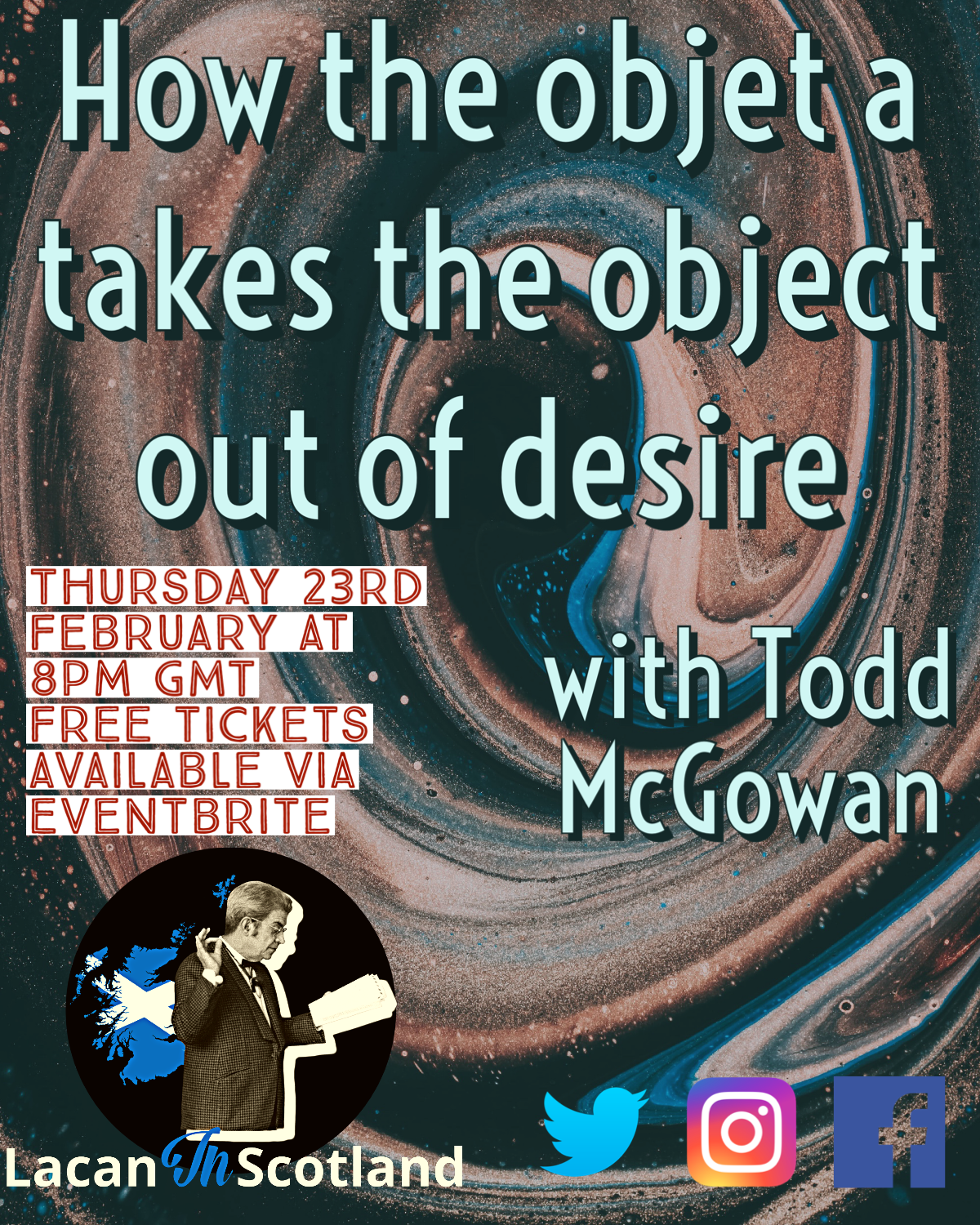 Jacques Lacan once claimed that the objet a was his one invention. It certainly indicates his originality as a thinker. This talk will trace the development of this concept and investigate how it enables him to think desire in a way that goes beyond both Hegel and Freud, two of the paradigmatic theorists of desire before Lacan. The objet a dissociates desire from satisfaction through obtaining an object and instead links desire's satisfaction to the obstacle that forms around its object.
Todd McGowan is professor of film studies at the University of Vermont. His previous Columbia University Press books are The Impossible David Lynch (2007), Capitalism and Desire: The Psychic Cost of Free Markets (2016), and Emancipation After Hegel: Achieving a Contradictory Revolution (2019). He is the coeditor of the Diaeresis series at Northwestern University Press with Slavoj Žižek and Adrian Johnston.
The seminar will take place on Zoom on Thursday 23 February 2023 at 8pm-9:30pm Universal Time Coordinated (UTC). It will be followed by a virtual pub gathering on the platform 'Wonder'. Please be aware that Eventbrite (and Facebook) usually automatically converts the event time for the time zone from which you view the page.
The event is open to everyone and free with Eventbrite registration. The Zoom link will be available for registrants on the 'Online Event Page' (found when accessing your ticket on Eventbrite) on the day of the seminar, which is where you can also find information about the virtual pub taking place afterwards on the platform Wonder.
Click here for the Facebook event.