An online seminar exploring euphoria in relation to fantasy from a Lacanian psychoanalytic perspective – with Kirk Turner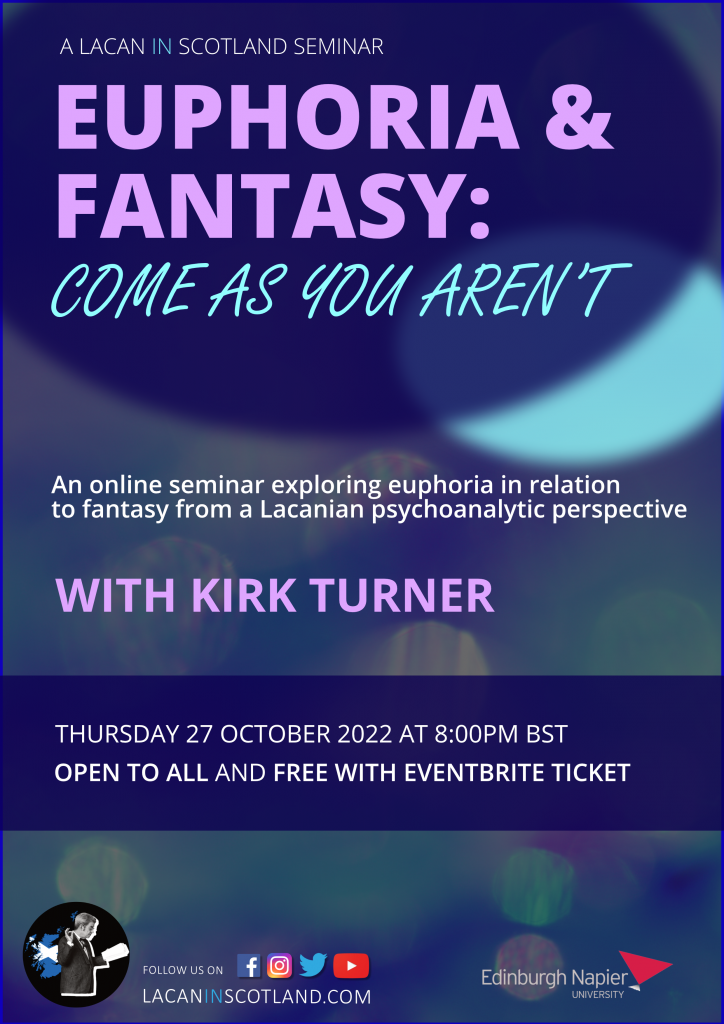 Following the airing of the final episode of Game of Thrones in May 2019, our inevitable sense of collective emptiness was countered with the palliative euphoria of Euphoria in June of the same year, bridging us over until House of the Dragon could arrive and helping us to avoid thinking about a pesky pandemic outside of our doors. Euphoria took all of the sex and violence we still craved, magnified it and put it in a high school setting. From period drama to the drama of missed periods, we entered a 21st century landscape of drugs, alcohol and abuse; of death, hookups and questions of gender; of cutting, camgirling and coming down. All of which were happily not happening to us: bite- sized jabs of teenage trauma between the first, second and third jabs in our arms.
How is the state of euphoria discussed in Lacanian theory; what is its relation to the concept of fantasy; and how exactly is it differentiated from semantically related terms such as ecstasy, pleasure and jouissance? In 1966, Lacan characterized his project as emerging from a question which Freud had given new meaning to, in his 1920 treatise Beyond the Pleasure Principle, by forcing open a traditional barrier related to jouissance: how is reality established, namely, to the satisfaction of the pleasure principle? This will be key to our discussion.
Is clinical euphoria, for Lacan, merely a dead end on the path to the cure? Can the religious ecstasy of mystics such as Saint Teresa be put on par with the hedonism of the addict? Conversely, how does the subject's fantasmatic support avoid such excess? We will look into the voyeuristic narratives of Euphoria and Lacan's writings to explore these issues. If fantasy is a 'key,' as Freud called it, to the distinction between psychical and material reality, how are euphoric solutions to the everyday burdens of the life we bear different? What do fantasy and euphoria ultimately reveal about the subject's "radical eccentricity with respect to itself," that which allows us to come as we aren't?
Kirk Turner received his PhD in philosophy from Deakin University, Australia. He has published widely on Lacan and Freud, produced several German-to-English translations, and lectured and presented in Australia and internationally. His first book, Lacanian Fantasy: The Image, Language and Uncertainty, was published by Routledge in August 2022.
The seminar will take place on Zoom on Thursday 27 October 2022 at 8pm-9:30pm British Summer Time (BST). It will be followed by a virtual pub gathering on the platform 'Wonder'. Please be aware that Eventbrite (and Facebook) usually automatically converts the event time for the time zone from which you view the page.
The event is open to everyone and free with Eventbrite registration. The Zoom link will be available for registrants on the 'Online Event Page' (found when accessing your ticket on Eventbrite) on the day of the seminar, which is where you can also find information about the virtual pub taking place afterwards on the platform Wonder.
Click here for the Facebook event.