The Palgrave Lacan Series is a book series for new work written in the Lacanian field, edited by Calum Neill (Edinburgh Napier University, UK) and Derek Hook (Duquesne University, Pittsburgh, USA). This book series promises new, insightful contributions to the field. One book was released last year, one is due to be released this month, another in April (see below) and more on the way later in the year by authors such as Dany Nobus and Adrian Johnston.
Summary of the series:
Lacan, being one of the most influential thinkers of the 20th century, is starting to have an increased influence in the 21st century, not only in the clinical world but in a wide range of areas concerning society, politics, the arts and culture. With the aim of increasing understanding of Lacan's theory and its impact today, the series consists of monographs and collections focused on specific clinical aspects as well as areas beyond.
1) Out of the Past: Lacan and Film Noir
Author: Ben Tyrer
OUT NOW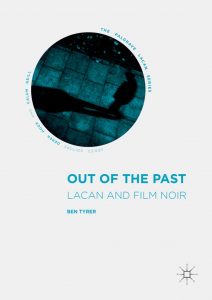 "This book presents a new reading of film noir through psychoanalytic theory. In a field now dominated by Deleuzian and phenomenological approaches to film-philosophy, this book argues that, far from having passed, the time for Lacan in Film Studies is only just beginning. The chapters engage with Lacanian psychoanalysis to perform a meta-critical analysis of the writing on noir in the last seven decades and to present an original theory of criticism and historiography for the cinema. The book is also an act of mourning; for a lost past of the cinema, for a longstanding critical tradition and for film noir. It asks how we can talk about film noir when, in fact, film noir doesn't exist. The answer starts with Lacan and a refusal to relinquish psychoanalysis. Lacanian theories of retroactivity and ontology can be read together with film history, genre and narrative to show the ways in which theory and history, past and present, cinema and psychoanalysis are fundamentally knotted together. Tyrer also explores Lacan through particular noir films, such as Double Indemnity and The Maltese Falcon — and demonstrates the possibilities for a Lacanian Film Studies (as one that engages fully with Lacan's entire body of work) that has hitherto not been realised."
2)  Writing the Structures of the Subject: Lacan and Topology
Author: Will Greenshields
Due: February 18, 2017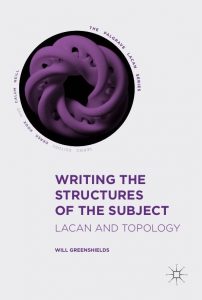 "This book examines and explores Jacques Lacan's controversial topologisation of psychoanalysis, and seeks to persuade the reader that this enterprise was necessary and important. In providing both an introduction to a fundamental component of Lacan's theories, as well as readings of texts that have been largely ignored, it provides a thorough critical interpretation of his work. Will Greenshields argues that Lacan achieved his most pedagogically clear and successful presentations of his most essential and notoriously complex concepts – such as structure, the subject and the real – through the deployment of topology. The book will help readers to better understand Lacan, and also those concepts that have become prevalent in various intellectual discourses such as contemporary continental philosophy, politics and the study of ideology, and literary or cultural criticism."
3) Perversion Now!
Editors: Diana Caine, Colin Wright
Due: April 18, 2017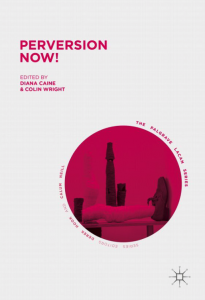 "This book enabling practicing analysts from around the world to interrogate the contemporary relevance of Lacanian theory for a category at once formative and deeply problematic for psychoanalysis: perversion. "