Brazil: Psychoanalysis in the Shadow of Dictatorship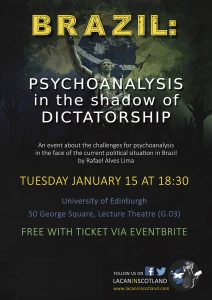 Rafael Alves Lima will speak about 'Challenges for psychoanalysis in the face of the current political situation in Brazil' describing the grave situation that led Jair Bolsonaro to the presidency of the country and the real threats that psychoanalysis in Brazil will inevitably have to deal with.
Rafael Alves Lima is a psychoanalyst and member of the Laboratory of Social Theory, Philosophy and Psychoanalysis (LATESFIP-USP), member of the Clinical Network of Jacques Lacan Laboratory (IP-USP), and member of the Margens Clínicas collective which offers psychoanalytic assistance to victims of State violence. He is visiting the UK for three months from the University of São Paulo, where he investigates the history of psychoanalysis during the Brazilian military dictatorship.
Tuesday January 15 at 18:30
University of Edinburgh, 50 George Square, Lecture Theatre (G.03)
Free with ticket via Eventbrite: https://www.eventbrite.com/e/brazil-psychoanalysis-in-the-shadow-of-dictatorship-tickets-54031798564