2019 Lacan's Écrits Conference & Book Launch
11th-13thOctober 2019
Duquesne University, Pittsburgh
Organized by the Duquesne Psychology Department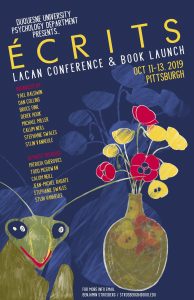 Without doubt the foundational text of Lacanian psychoanalysis, Écrits remains, fifty-three years after its publication, an invaluable resource for how we might understand – and practice— psychoanalysis. As labyrinthine as it is enigmatic, Écrits is at once Lacan's manifesto for what a Freudian psychoanalysis should be, the condensed companion-piece to the first fifteen years of his weekly Seminar and a treasure trove of philosophical intervention, cultural critique, and polyvalent provocation.
The 2006 publication of Écrits: The First Complete Edition in English (translated by Bruce Fink), made Lacanian theory more accessible to the English-speaking world. Yet Écrits remains an inexhaustible array of elliptical texts that invite multiple interpretations and interventions. This conference will extend this tradition of exposition and engagement by hosting many of the world's foremost experts on Lacan, and by exploring multiple perspectives on, and applications of, these still-generative texts.
ORGANIZING COMMITTEE
Yael Baldwin, Dan Collins, Bruce Fink, Derek Hook, Michael Miller, Calum Neill, Stephanie Swales and Stijn Vanheule.
KEYNOTE SPEAKERS
Patricia Gherovici, Todd McGowan, Calum Neill, Jean-Michel Rabate, Stephanie Swales & Stijn Vanheule.
BOOK LAUNCHES
Reading Lacan's Écrits, Vol. 2: From to 'On a Purpose' to 'Comments on Daniel Lagache'
Edited by Derek Hook, Calum Neill and Stijn Vanheule, will be available at a reduced rate to conference delegates.
Seminar VI: Desire and its Interpretation
By Jacques Lacan, Translated by Bruce Fink, will be available.
The official website for the conference can be found here, where a programme will be announced in due time.